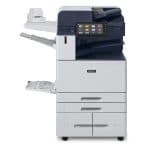 Demanding teams looking for a color copier will find the Xerox AltaLink C8130 an ideal workplace assistant. It is built to bridge the gap between the physical and digital worlds. By providing apps and solutions that are tailored to your specific business needs, this device makes projects easier.
This copier is designed with a tablet-like user interface and will let you personalize, simplify, and speed through repetitive tasks. You can copy, print, and scan, or send a faxes and emails effortlessly.
Aside from helping you automate document workflows, it allows you to connect to the systems that run your business. This indispensable machine has EPEAT® and ENERGY STAR® ratings. Its energy efficiency and environmentally friendly attributes make it appealing to a wide range of users. 
Keeping your files and data secure is easy with the Xerox AltaLink C8130. The built-in security features include automated threat response through McAfee® DXL/Cisco, Encrypted Storage Drive, and a whole lot more. It also supports optional safety features such as Xerox® Workplace Cloud/Suite Print Management and Content and Security McAfee® Integrity Control.
With a print speed of up to 30 PPM it is more than adequate for most offices. It also has a maximum print resolution of 1200 x 2400 DPI and takes only a few seconds to warm up. In addition, it boasts a duty cycle of up to 90,000 images per month.
When you get yourself a Xerox AltaLink C8130, you'll be able to conveniently scan to cloud repositories including Dropbox, Google Drive, and One Drive. It is truly a versatile and productive office assistant that's built for the busy work environment.