Xerox WorkCentre EC7836 Multifunction Printer
The Xerox WorkCentre EC7836 Multifunction Printer comes at an affordable price and produces up to 35 pages per minute, for either printing color or black-and-white documents. This copier is great for small businesses and teams in order for them to be able to manage their day to day tasks easier. Help your team stay efficient with the WorkCentre EC7836 in Pittsburgh.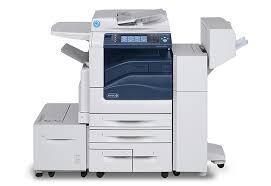 The Xerox EC7836 can print, scan, copy and fax. With MFP you have the ability to deliver bright business color copies and finishing options in order to add that extra impact! With this feature it makes it possible to get more work done in your office so that you do not have to outsourse those tasks any longer.
The EC7836 model has the following features as well:
Built-in Gigabit Ethernet for high-speed data processing
USB host interface provides print-from and scan-to convenience
Wireless option lets you place your device virtually anywhere
Mobile printing solutions
The Xerox WorkCentre EC7836 MFP is very adaptable to your business environment, allowing you to use most of the equipment you already have in your officeto install and start using right away for all of your needs. Many businesses face challenges within their business, don't let your copier be one of those challengesThis color copier makes it easier to get things done faster and allows for you to be able to move on to the next task without anything holding you back.