Xerox VersaLink C8000 Color Printer
The Xerox VersaLink C8000 Color Printer is great for any small office or team that is very fast paced. The VersaLink C8000 is a very high performing printer that you and your team can rely on. This printer is Cloud-connected, mobile ready, app-enabled, and easy to customize. Use the VersaLink C8000 in place of a real assistant at times because it will stay on top of all of your office needs. No longer the need to be scrambling to get work done at the last minute, everything is done efficiently with this color printer!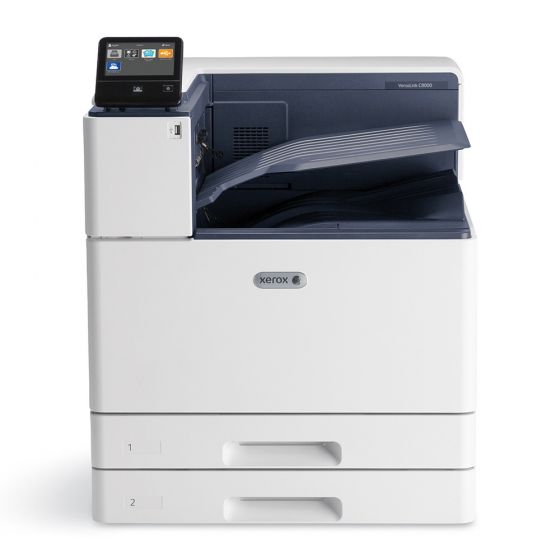 This Color printer in Pittsburgh is designed to be more reliable and efficient than ever! With the new hardware design there are fewer moving parts, and a more advanced Hi-Q LED print head which makes it easier for you to operate. The Xerox VersaLink C8000 in Pittsburgh has more security features that keep all of your data secure. Superior print quality to make your work look its best! Provides a print resolution of up to 1200 x 2400 dpi. Making files and documents look sharper than ever.

The Xerox VersaLink C8000 model has great features for all your office needs::

Print up to 45 ppm
Powered by ConnectKey Technology
Resolution up to 1200 x 2400 dpi
Gesture-based touchscreen controls and easy customization
Xerox App Gallery enabled
Mobile and cloud ready
Wi-Fi and Wi-Fi Direct with optional Wi-Fi Kit, NFC Tap-to-Pair
Not very much set up required with the Xerox Color Printer. When you open the box, you'll be able to use your C8000 color printer in Pittsburgh to consistently perform all the tasks that make your business work more efficiently. You don't need to bother your IT staff to install software on everyone's computer. Easy-to-follow instructions let devices connect to the printer quickly and without a fuss.

If you want to know more about this copier or any copier, please give us a call today and we'd be happy to help you pick out the right one for you and your business needs.