Stop Overspending on Prints
If you have a copier or printer in your office there is a good chance that you are overspending on prints. Within your lease is an area that you discussed with your leasing agent to decide how many monthly prints you will need. Unless you are working with the fair copier experts at Pittsburgh Copier, your leasing agent probably convinced you to spend more than you should be. At Pittsburgh Copier we believe in helping our customers to stop overspending on prints.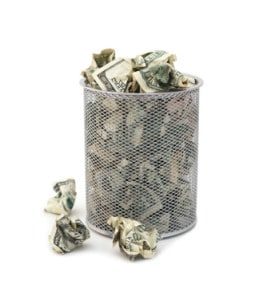 What you need to understand is that it's not your price per print that you are usually spending too much on. It's the number of prints you bought that is wasting you money.
For example:
You calculate your monthly output and decide that you need 25,000 prints.
The salesperson might suggest that you buy 30,000 prints, just in case. They offer to knock the price down from $.o15 per print to $.014 per print.
It may sound like a good deal because you are paying less per print but you are still paying more.
25,000 prints x $.015 per print = $375 per year
30,000 prints x $.014 per print = $420 per year
That's an extra $45 per month spent on prints that you will never use.
Copier leasing companies know that you will likely never use the extra prints you bought. Sure, if you do need them it's nice to have them, but you will probably never use them. It's wasted money that gets thrown away every month. It is just better to pay more if you need more, than spend money on things you don't need.
Get a fair copier lease without the hassle at Pittsburgh Copier. We believe in helping you spend money the right way. We don't exploit our customers because we put you and your business first. Work with the best in the business and call Pittsburgh Copier today.